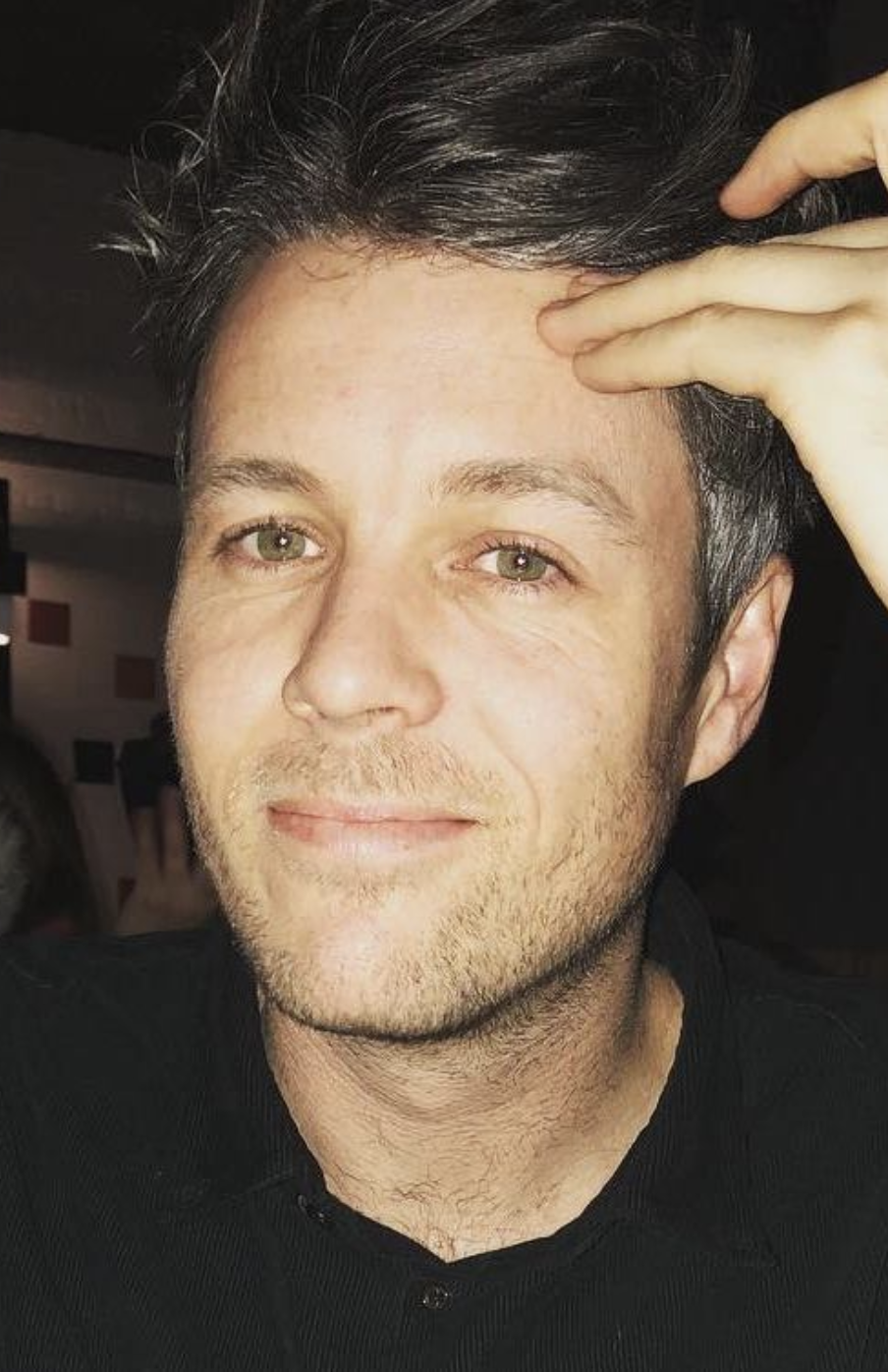 Dean Fankhauser
Let's build the best
LVMH
Louis Vuitton bought Le Bon Marche and wanted to recreate its online department store to compete with Net-A-Porter and Farfetch.

Their USP was to have an exclusive on LVMH brands and showcase them in innovative, new ways.

I was brought in as the lead UX to help them realise it.
Summary
I was initially brought in to pitch on behalf of Spring Studios for LVMH's new project called 24 Sevres. Their aim was to compete with Net a Porter and Farfetch with the USP of having exclusivity on LVMH's brands online.

I was heading up UX but also helped on the strategic side of things. We ended up winning the pitch and they brought me back in to head up UX and strategy for the project.

I was working directly with Head of Digital and Head of Creative for LVMH. My time was split between NYC, London and Paris leading workshops and design sprints.
In addition to working with the Head of Digital and Head of Creative for LVMH, I dealt directly with the Louis Vuitton family directly, including the CEO.

My role
Product strategy

User research & Analysis

Persona creation

Sitemaps & user flows

Wireframes

Prototyping
Usability Testing
Methodologies

Agile, Lean UX, UCD
Tools
Sketch, Invision, Principle
Build. Measure. Learn. Repeat.
I used Lean UX principles in the development of "24 Sevres" to focus on users and their needs at each phase of the design process:
Define problems and goals

Research to back hypothesis up
Competitive analysis to gain insights on what others are doing and where the standards currently are
Personas to help define who we're building this product for and remind the team that it's not for us
User flows & sitemaps taking into account our research and what's most important to the user
Sketches & wireframing based on the user flows that we could start to test with the user
It resulted in an immersive, unique shopping experience that has gone on to sell millions of dollars in merchandise and great comments from its customers
Defining problems & goals
Problems

Le Bon Marché is the world's first department store. Now the property of LVMH, it sells a wide range of high-end fashion and lifestyle goods. They wanted to take this department store online and compete with the likes of Net A Porter and Farfetch. They called it 24 Sevres.

They needed to create a multi-brand department store that accurately represented their incredible in-store experience online.
Because of their close relationship with LVMH, they have an opportunity to showcase brands and products that aren't available anywhere else online.
Provide a high level of service that could also potentially integrate with their offline store.
Goals
After analysing what the problems were, we had a clear outline as to what the user and business goals should be.
Showcase hero brands in a unique and incredibly engaging way.
Build a tiered service portal that could identify high value customers and provide them with superior service.
Research to back hypothesis up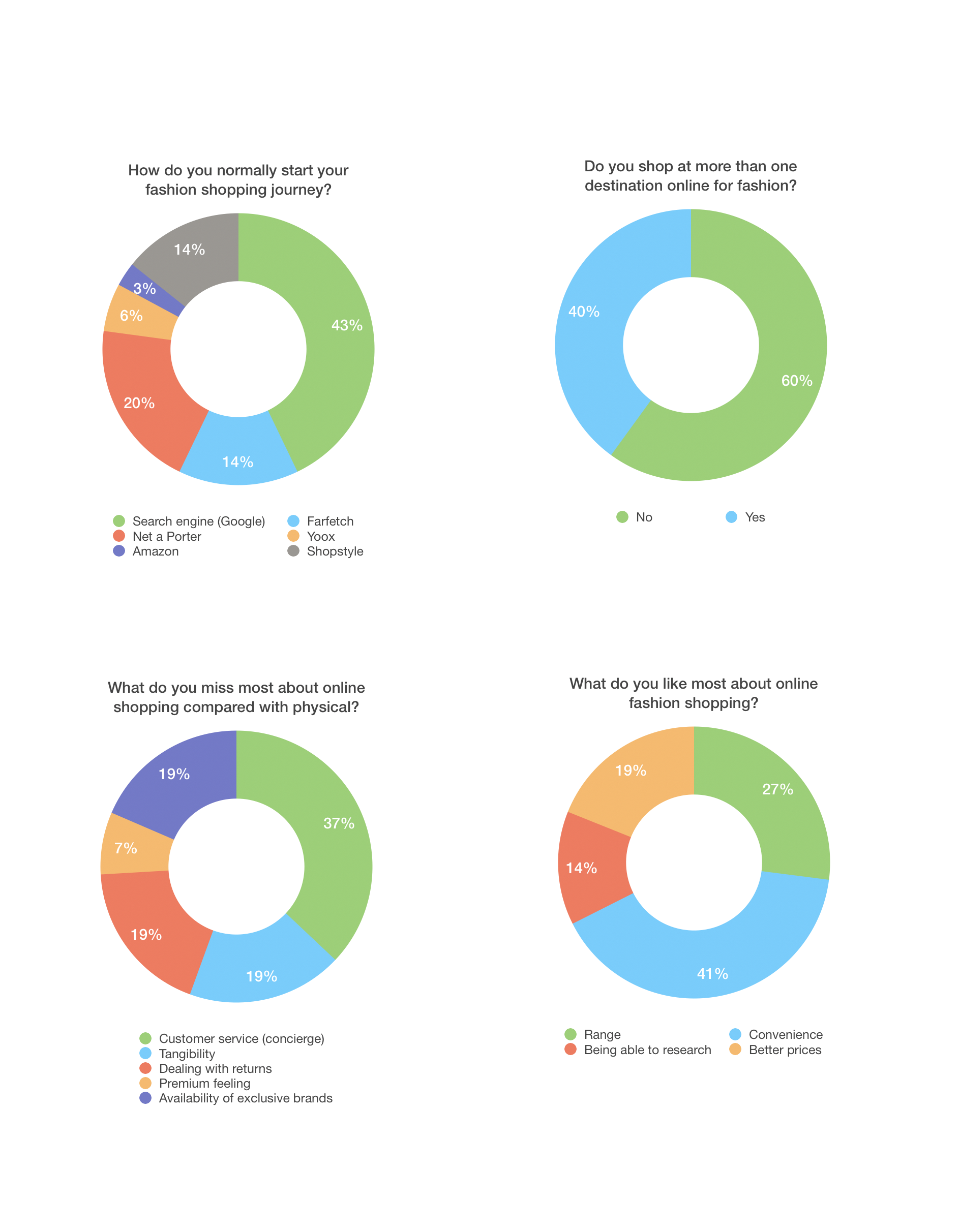 Research
Conducting User Survey
We wanted to test some of our hypothesis and assumptions around problems / goals, so we created a survey.

Results:
43% said their fashion shopping journey usually starts with Google. Solution: We need to optimise the site for SEO
60% shop at only one online destination. Solution: Make shoppers feel like this is a one-stop destination for their shopping needs

37%

miss the customer service of shopping in a physical store. They love the idea of having a personal shopper, or concierge.

Solution: Create an online concierge service

41%

like the convenience of online shopping. Particularly being able to shop while on the go.

Solution: Create a seamless mobile shopping experience where buying is one-tap away

Competitive analysis - Brand experiences
It was now time to see who else was trying to achieve the same goals and how they went about it.
The first step was to see how other online department stores were showcasing brands throughout their platforms. Surprisingly, there was little and in some cases none at all. This was clearly an opportunity to innovate in this area and stand out among the competition.
Reviews
UI inspiration and benchmarking wasn't enough. There's a goldmine of insights in app stores that we mined. This gave us ideas on what was most important to the customer including access to customer service, speed and usability.
Other inspiration
It was clear the competition weren't doing much in regards to showcasing hero brands beyond basic SEO optimisation.
We decided to look at other industries to see how they showcase hero brands or profiles for inspiration.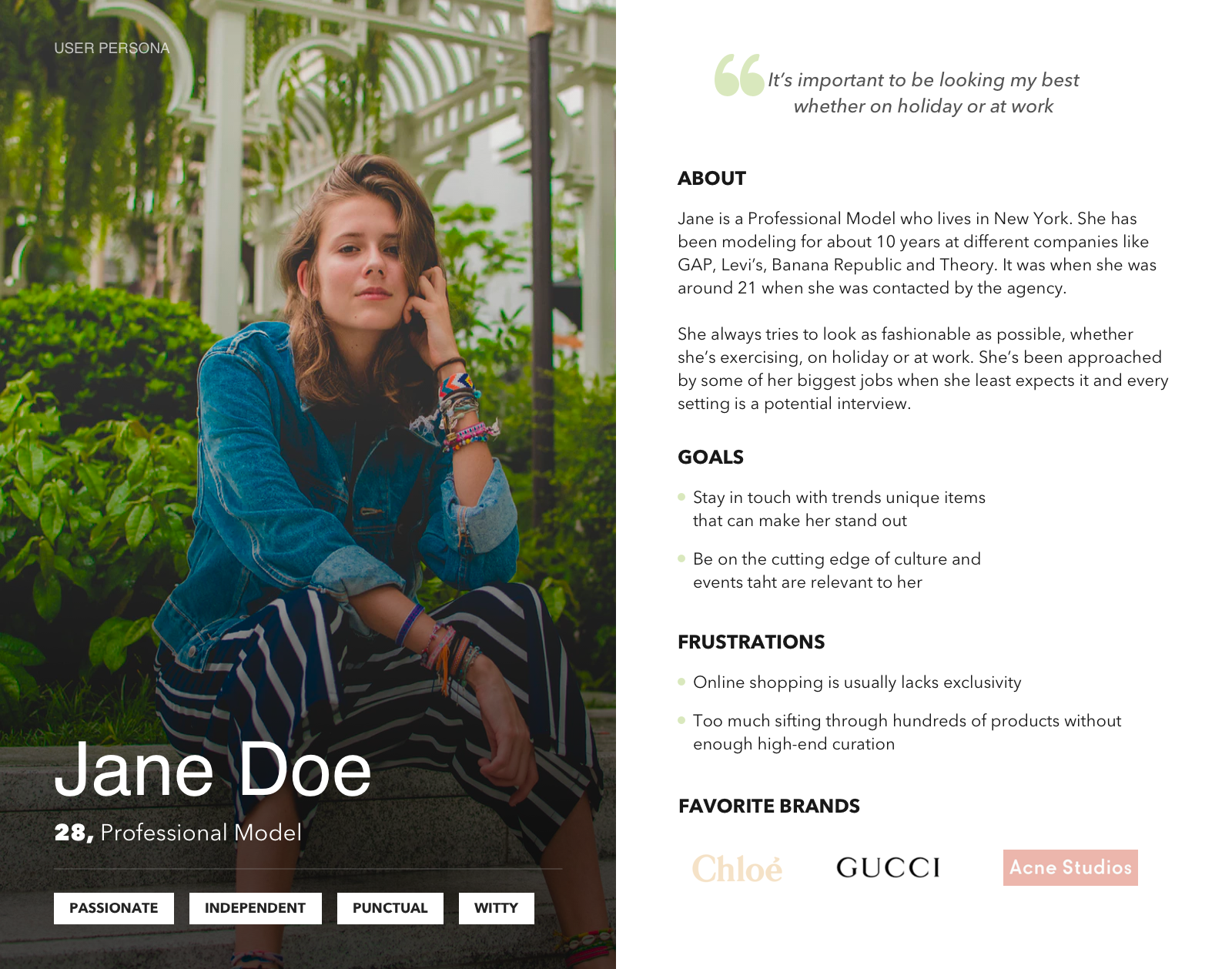 Personas
Based on the interviews/workshop we set up three personas. We referred to them throughout the entire product development process.
When developing the personas, we used a mixture of our user research and stakeholder insights




We decided we needed personas when we found ourselves referring to our own needs instead of the target customer's.

Once developed, it was our north star for the designers, developers and stakeholders




It helped give clarity to the project and remind us that we're not developing this for ourselves.



With the research and personas in place, we were inspired and informed enough to start creating the first ideas around sitemaps and user flows.
After our first workshop, I started developing a sitemap and user flows to reflect the scope and priority of features for this project.
From here we could start sketching and iterating fast. We came up with a variety of solutions that included dedicated, content rich brand pages and also displaying how we could showcase certain brands throughout other parts of the site.
These were some of the initial ideas we had to showcase hero brands in unique and engaging ways. We had access to very high quality brand content, so we thought we should create pages that take advantage of that.
Unlike our direct competitors, the solution we put forward was very content heavy, visual, yet still incredibly user friendly. While we wanted to showcase beautiful content from hero brands, we made sure shoppers could quickly understand and access core shopping features.
Service
Based on our research, it was important for the retailer to provide a concierge service to help bridge the gap of online and offline.
We came up with the 'Club LBM' that did just that.
Web
We ended up with an immersive, visual web experience that highlighted brands in a completely new way.
Mobile
We tried to keep Android and iOS as similar as possible. Our mobile website was also heavily influenced by our native mobile design.
24 Sevres has solidified itself as one of the leading online department stores, competing with Net a Porter, Farfetch and others. It received significant press on the FT, Guardian, WSJ and much more.

Below is a little video they put together to promote the app and website. It's mostly dancing with a bit of app at the end 🙃
Research is a must – Without it we're just making assumptions and it's the loudest person in the room whose assumptions will be built. This will lead to tonnes of mistakes and a product that could be dead on arrival.


Personas are powerful – knowing who you're building for and why is an absolute must. It's important to detach yourself and your own needs for each product and personas help do just that.


The user is always right – stakeholder or team assumptions are dangerous. The user is always right and should be listened to.